Click here
for general information about Safe Rooms

7 Person Safe Room

The "Six or Seven Person" Tornado Safe Room ( 120" wide X 30" deep X 55"high ), is one of our Four highest tested and certified Tornado Safe Rooms in the United States, tested and certified by Certified Testing Laboratories of Orlando, Florida, a Miami-Dade County approved testing laboratory. It has been tested to withstand wind loads of 450 mph and to withstand the 100 mph projectile test. This unit also passed gun shot tests using 38 special, 380, 9 mm and 45 automatic military weapons from a distance of 15' without any penetration.

The walls and door of the "Six or seven Person" Tornado Safe Room is manufactured from 10 gage, galvanized steel panels, reinforced in places with 2 1/2" x 2 1/2" x 1/4" angle iron. The top is manufactured from 1/4" steel plate. The door, when closed, is secured by three of our patented "Saf-T" latches.

This room is manufactured with a low profile, which, because of its' low height, catches much less wind load, making it much stronger and safer than taller rooms.

The "Six or seven Person" Tornado Safe Room is anchored in place by 27 special concrete anchor bolts each having more than 7,000 lbs. of tension strength holding it in place. What this means to you is that this room is held to your concrete by more than 180,000 lbs. of holding power. (That is equal to more than 94 tons holding this room in place).

The "Six or seven Person" Tornado Safe Room is 120" long x 30" deep x 55" high. It has room for Three adults and 3 or more children, and room for your lovable pet on the floor.

The "Seven Person" TornadoSafeRoom™

Delivered and installed on your existing concrete in your garage or carport.

$5,295.00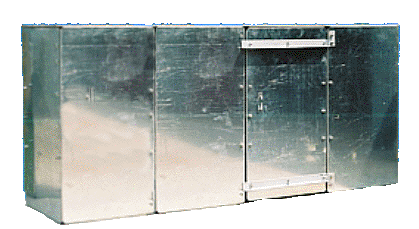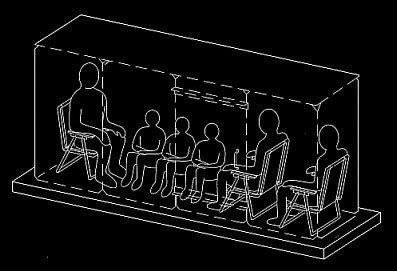 Our Safe Rooms are patented and marketed as a "re-locatable personal safety appliance" and may be unbolted and taken with you should you decide to relocate.


Safe Rooms Distributed by: TornadoSafeRoom™

P.O. Box 10238, Murfreesboro, Tn 37129